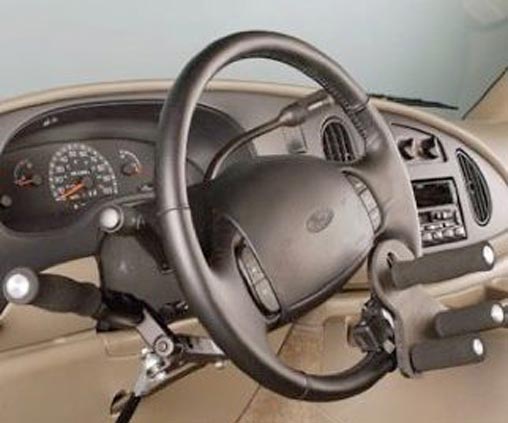 Hand Controls
Hand controls allow you to access the accelerator and/or brake pedals without using lower extremities.
We offer a variety of hand control models from Veigel, Sure Grip and MPS. Hand controls come in many different options which allows almost any vehicle to be outfitted.
The State of Ohio requires a completed certified training course before installation of controls. Please call for further information!
Foot Controls
Foot controls offer solutions for a wide variety of applications. Whether it will be a guard to protect against accidental pedal use or a pedal extension to allow closer access for the driver or a left foot accelerator for someone needing to drive with their left foot.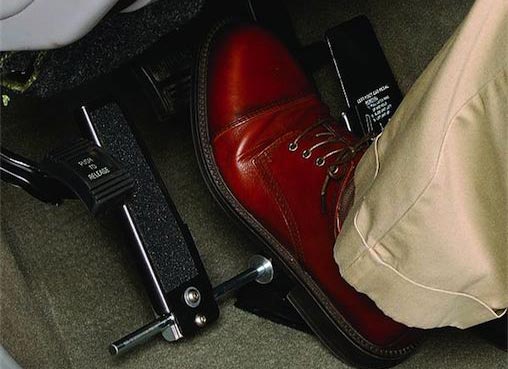 Left Foot Accelerator
The Left Foot Accelerator pedal allows you to use your left foot to accelerate. This can be easily removed for other drivers if needed.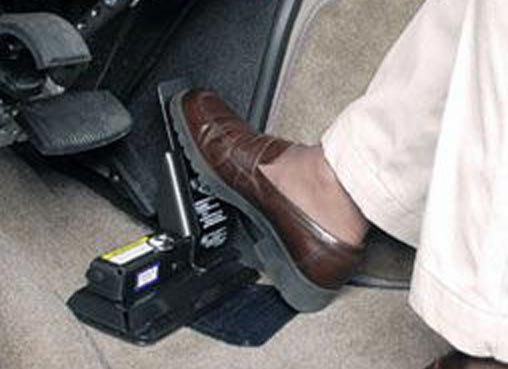 Accelerator Guard
The Accelerator Guard protects your foot from resting or pressing on the accelerator pedal. It also keeps your foot from lodging underneath the pedal. This is recommended by driving evaluators.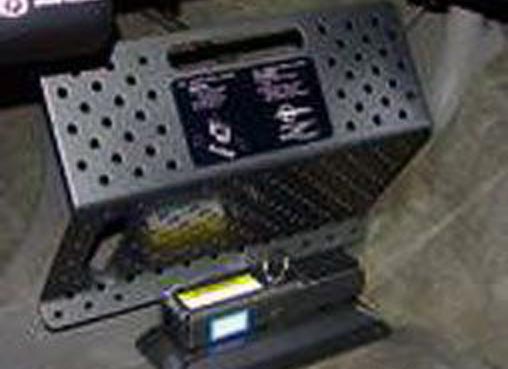 Accelerator / Brake Guard
The Accelerator/Brake Guard protects your foot from resting or pressing on the accelerator and brake pedal.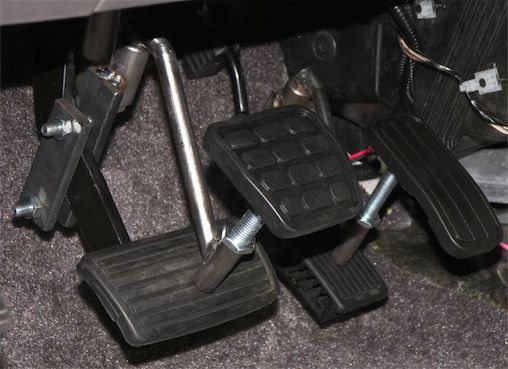 Pedal Extensions
Pedal Extensions allows a driver to sit safely and comfortably away from the steering wheel. Extensions can be easily adjusted per driver that will extend from 2 to 8 inches. They can be easily removed for other drivers.
Steering Aids
Steering devices are offered for someone needing to use minimal muscle strength for turning the steering wheel, or to keep their hand more supported and secure while driving.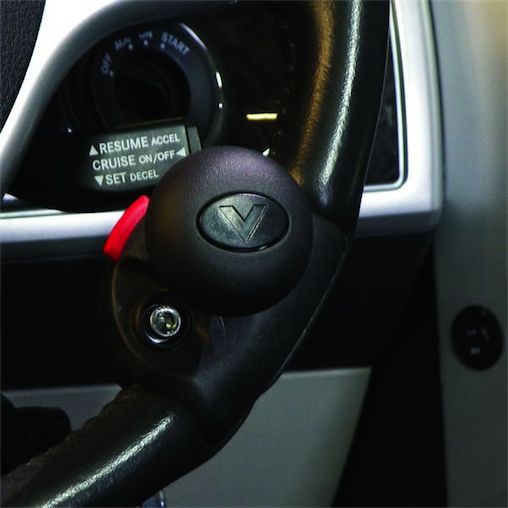 Spinner Knob
The spinner knob allows a driver to easily turn the steering wheel with limited muscle strength and without turning their wrist. Spinner Knob sits comfortably in the palm of your hand.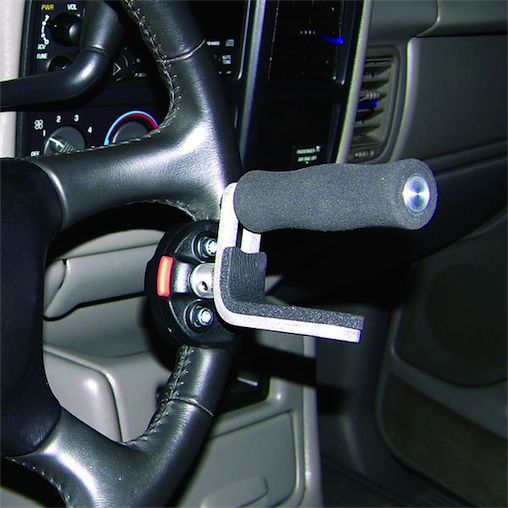 V-Grip Steering
V-Grip allows a driver to rest their hand in between the front and back supports. This allows the driver to keep their hand in a comfortable and secure position. The V-Grip is easily adjusted and includes a foam cover.
Extension Controls
Extension controls allows the driver to easily access and operate their turn signal, gear selectors or parking brake.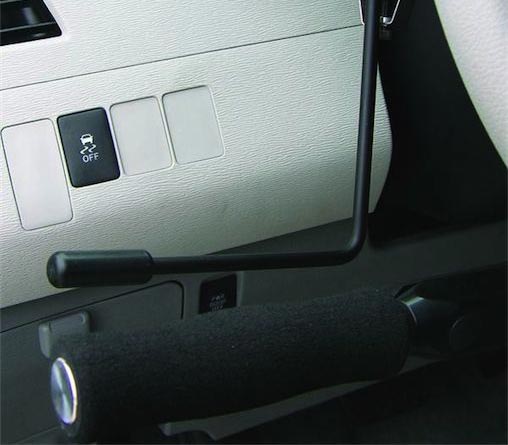 Left Hand Turn Signal Extension
This Drop Style extension allows you to access your turn signal easier if you have hand controls installed or find it difficult to reach up to your turn signal. This lever will drop down and extend under the hand controls.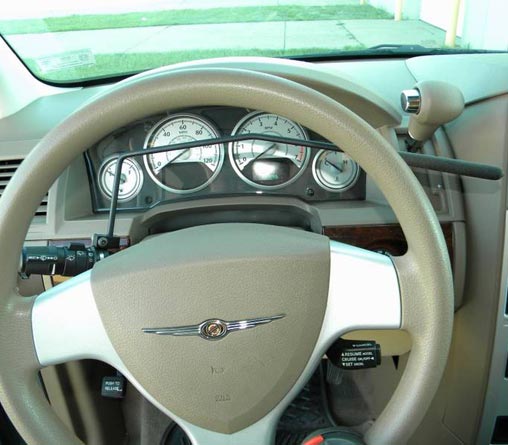 Right Hand Turn Signal Extension
This extension makes your turning signal accessible from the right side of the steering wheel. This lightweight crossover lever can be easily removed.
Park Brake Extension
This extension allows you to easily reach the parking brake and operate with your hand. It is fully adjustable and comes in 11in or 14in lengths.
---
Gear Extensions
This extension comes in a variety of models. Whether you have the dash style gear shifter or the floor style gear shift this extension will allow you to push in the side button and shift in one motion with extra leverage.
Gear Shifter Extension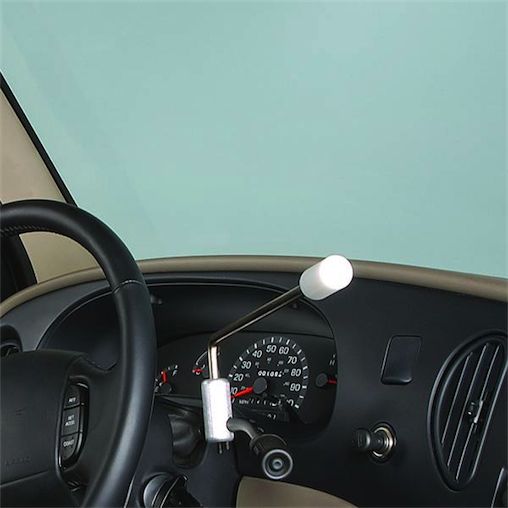 Dash Mounted Gear Shift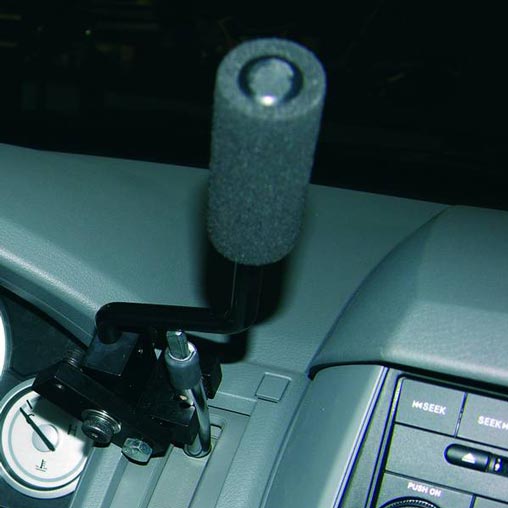 Floor Style Gear Shift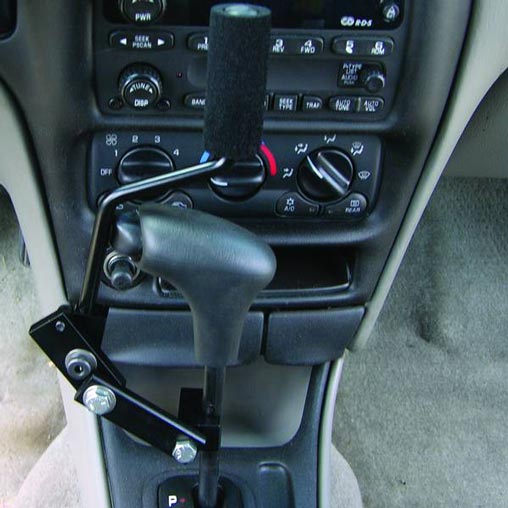 Installed products may differ from the photos above as new models are released.